About the Boothbay Harbor Region Chamber of Commerce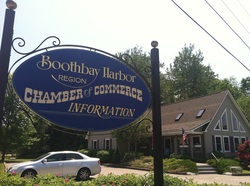 For over 50 years, the Boothbay Harbor Region Chamber of Commerce has been a 501-C-6 voluntary organization whose membership is comprised of over 400 business entities and Friends of the Chamber in the communities of Boothbay, Boothbay Harbor, East Boothbay, Edgecomb, Monhegan, Newcastle, Southport, Westport, Woolwich and Wiscasset. The mission of the Boothbay Harbor Region Chamber of Commerce is to promote a positive business climate by focusing on advocacy, access and leadership.
The chamber's primary goals are to:
Bolster local businesses and the communities we serve
Serve as guardian of the community's economic well-being
Advocate on the behalf of the business community
Promote avenues of tourism
Our staff consists of an Executive Director, a Events & Members Services Manager, an Administrative Coordinator, a Visitor & Member Relations Coordinator and a summer Volunteer & Visitor Relations Intern.
We work with a 12 member Board, and over 136 volunteers that help us as concierges welcoming visitors to the region, greeters for cruise ships, and on our special events including our Annual Awards dinner in May, Claw Down in September and Harbor Lights in December.
We have a full host of chamber benefits for our members including our popular Business After Hours that are held throughout the year. We produce a 148 page Region Guide, a Region and Sculpture Map, numerous advertising campaigns, and we manage our office Visitor Center and our Downtown Information Center.
Whether you live here, want to visit or move here, we are your one-stop shop for information on the region. Our office hours are Monday through Friday: 11:00 am to 3:00 pm EST. We look forward to welcoming you to the region!