The Boothbay Harbor Region Chamber of Commerce is thrilled to announce the initiation a sculpture walk/trail for the Boothbay Harbor Region. This program is closely modeled after the successful Greater Meredith NH Sculpture Walk which both Maine artists, Andreas von Huene and Bill Royall have been juried into the past two years.
Sculpture Trails attract a new kind of visitor to our region and in addition, offers the gift of public art to residents and visitors. The Chamber has already installed seven pieces from the Maine Coast Stone Symposium in the downtown corridor of the harbor. In January there was a "Call to Artists" from the New England area to submit proposals to fill the remaining sites. Once the artists and their sculptures have been selected, installations will begin in late spring culminating with a Gala Launch in June. A Trail map is available at the Chamber indicating sculpture sites and artist information.
As the momentum of the Sculpture Trail evolves, the Trail will take visitors to the far reaches of locations such as Ocean Point, Barter's Island, Southport, showcasing the beauty our region has to offer. The administrators of the Meredith NH Sculpture Walk have been wonderfully supportive and have willingly shared their plans, their process and their templates with us. Eventually, we will expand the trail to extend throughout the Boothbay region. As in the Meredith Sculpture Walk, sculptures will be allowed to remain on site up to two years. This will keep the Trail fresh and encourage people to keep coming year-after-year to see new work.
The Maine Coast Stone Symposium held at the Boothbay Railway Village in August 2017 was a huge success. The participating stone artists spent eleven long days utilizing granite and stone to create everything from garden sculpture to public architecture. The Symposium generated 8 to 10 pieces of completed stone sculpture which will initiate the launch of the Boothbay Harbor Region Sculpture Trail.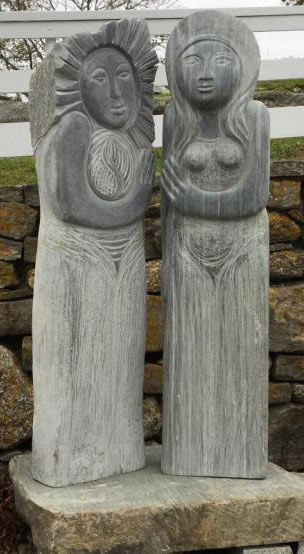 Each piece will be for sale and all proceeds will go directly to the artist. Each piece will also have a branded Sculpture Trail sign with the Artist's name and contact information. Business Sponsorships are available through the Chamber and go toward the installation costs, signage, and marketing materials for the Trail. Contact the Chamber at 207-633-2353 for more information.