A Harbor Made for Landlubbers Too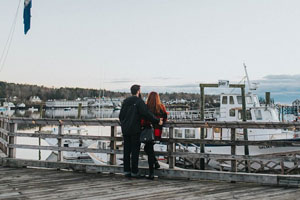 The harbor is the crown jewel of the region—a protected, deepwater port, a place of scenic beauty. The areas along the water here are a hub of activity inviting to sailors and paddlers of all kinds. For visitors who have never had the pleasure, there are many easy and enjoyable ways to get out on the water, whether for a sailing excursion, morning sea kayak trip, lighthouse tour, or cruise out to the islands for a lobster bake.
Considering that Boothbay is one of the East Coast's premiere boating destinations, it is no surprise that excursion and fishing boats are conveniently located at the downtown docks. Salty sea captains are at the ready to take you on a quick harbor tour or for a longer cruise in search of the wilder side of Boothbay Harbor.
When traveling through the harbor, keep your eyes peeled for maritime wildlife like seals sunning on ledges and porpoises sporting in the waves. In the spring look to the sky for bald eagles tending to their fledglings; dozens of ospreys arrive just in time for summer. Beneath the water's surface, schools of mackerel run seasonally, providing great sportfishing.
More adventurous visitors can learn how to haul a lobster or hear stories about the fishery. Catch a charter sportfishing boat to troll for mackerel, tuna, stripers, or shark. Or learn the latest about"green" energy aboard an electric-powered vessel. If you prefer to chart your own course, you can rent a small boat, stand-up paddle board, or kayak to explore nearby coves, beaches, islands, lighthouses and the easily accessible network of peaceful estuaries along the coast.
Visit a saltwater beach, in and around our immediate region, including Barrett Park off Linekin Bay, Grimes Cove, Hendricks Head, and Knickercane Park—each with plenty of beachcombing, rocks for climbing and tide pools to explore, picnicking, and some with swimming opportunities.