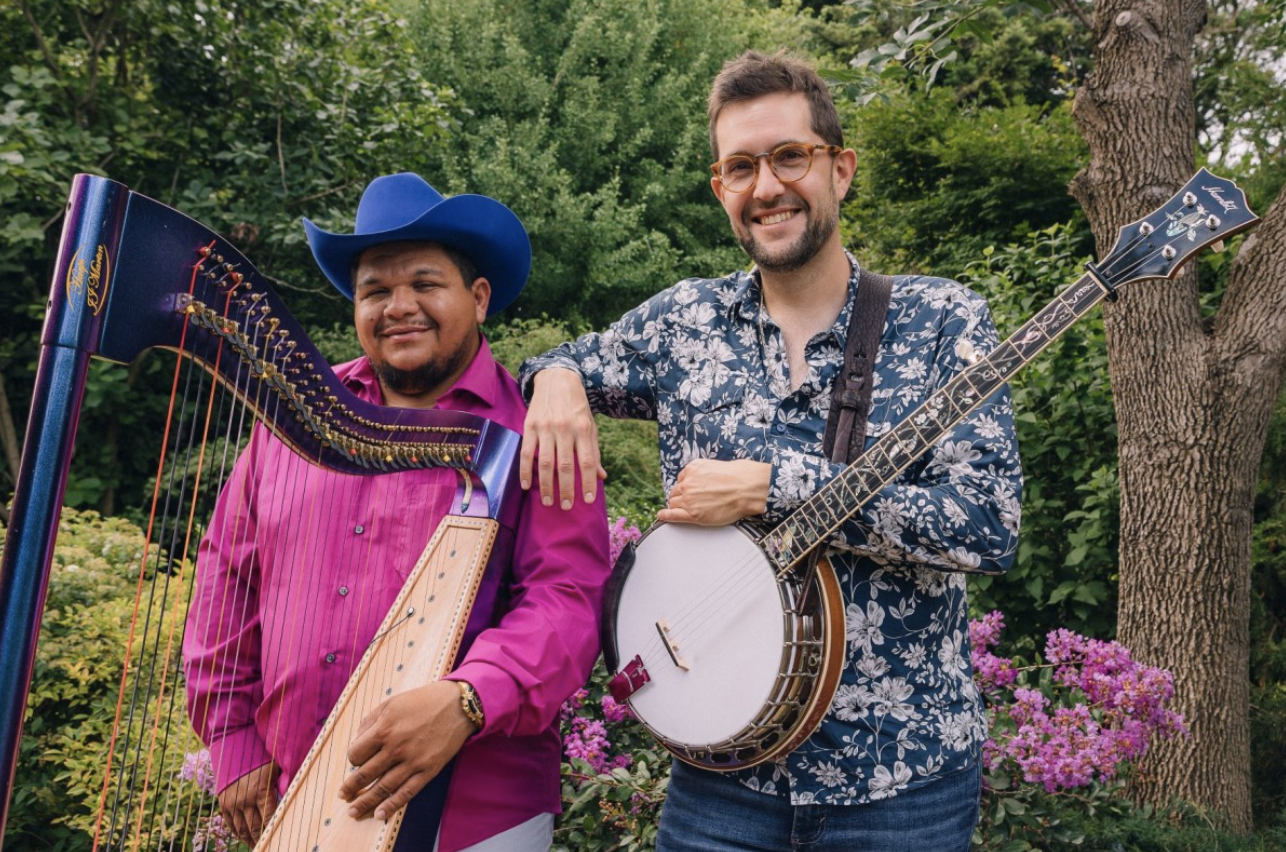 At the Opera House: Larry & Joe
LIVE MUSIC AT THE OPERA HOUSE: Tonight's show is a stop along the tour of their debut album, Nuevo South Train produced by legendary American guitar icon Charlie Hunter. It's a bilingual program of Bluegrass, Llanera, Joropo, storytelling, singalongs, and more. Harp, banjo, cuatro, fiddle, maracas, upright bass, guitar, and rich tenor harmonies.
North Carolina-based duo Larry & Joe caught their first break in August 2022 with their invitation to play Béla Fleck's Banjo Concert at the Brevard Music Center. Their mesmerizing performance inspired a standing ovation from a crowd of 3,000 people – the only standing ovation of the night, though their second of the weekend. Just the night preceding they had Béla Fleck himself on his feet.
Fleck had produced Rearrange My Heart, the second album of Troop's previous band, Che Apalache. It went all the way to the GRAMMYs in 2020 with a nomination for Best Folk Album. A few weeks later, the pandemic completely devastated their promising year-long tour and Troop bid an indefinite adieu to the band – his three best students of nearly a decade – and Buenos Aires where he'd lived since 2010.
After writing, recording, and releasing his debut solo album featuring luminary collaborators like Béla Fleck, Tim O'Brien, and Abigail Washburn, Troop hosted a month-long residency at Durham arts warehouse The Fruit. For the premiere show, Bellorín appeared with his harp, bending notes, layering polyrhythms, and changing tunings mid-song.  When Bellorín and Troop first played together, sparks flew. Two virtuosos of their respective folk traditions, both brimming with passion and fury, each starting over again after having lost so much.
Back in his home country of Venezuela, Bellorín built a life and career off of music. As a child, he sang while polishing shoes. He could sustain himself off of music alone by age 11. As a teenager, he performed alongside GRAMMY-winner Renaldo Armas and went on to perform with other Venezuelan luminaries including Cristina Maica, Teo Galindez, and Rumi Olivo. He and his wife opened a Llanera music school which served over 500 students. Then Venezuela began to collapse.
It's been more than 6 years since Bellorín migrated to the United States , facing political exile and seeking asylum – first alone and then joined by his wife and young daughter. To support his family and make ends meet, he now works 10-hour days on the construction site. While he's very grateful for the work, his greatest wish is to share the music and culture of Venezuela, and looks forward to his upcoming tour with Troop.
Together, the two are on a mission to show that music has no borders.
Advance discounted tickets $20, available directly from the box office beginning November 1.